Commercial Fuel Delivery In PA & MD
When you choose Aero Energy as your supplier of commercial fuels, you're choosing quality, reliability and affordability. As the regions preferred fuel supplier, Aero Energy boasts one of the region's most extensive delivery infrastructures providing a wide range of product types. Whether you have a single location, multiple facilities, or are constantly moving job sites, Aero Energy's fuel delivery service enables you to run your commercial business or farm more productively and with better cost-efficiencies.
Inquire Now!
Give Us a Call

855-779-6899
Why Choose Aero Energy Commercial Fuels?
Aero Energy is owned by the communities we serve!
Owned by non-profits, Adams Electric Cooperative in south central Pennsylvania and Choptank Electric Cooperative in Maryland's eastern shore region, Aero Energy has a completely different makeup and mindset than that of our for-profit competitors. With our significant buying power and expansive supplier agreements, we help our customers save money every step of the way, which in turn helps drive our economy and creates more robust communities.
Aero Energy's third owning partner is its dedicated employees. As the regions only ESOP fuel supplier, our people live, work and are deeply ingrained in the communities we serve. So when you are at the grocery store, sitting at a stoplight, sitting in church or attending a school sporting event, chances are there is an Aero Energy owner nearby.
Your business has unique demands. Here at Aero Energy we value expediency, which is why we deliver quality fueling products where you need them, when you need them. With offices and bulk storage plants throughout Pennsylvania and Maryland, Aero Energy covers a vast geographical region.
When you partner with Aero Energy, you will always have a fuel inventory on-hand, whether we're delivering fuel to your tank, directly fueling your equipment onsite, or providing you with one of our free-loaned skid tanks that follows you from job site to job site. We work with you to create a customized fueling plan that's specific to your operation. And with one of the largest fleets of commercial and transport fuel delivery trucks in the region, you never have to worry about receiving your fuel delivery on time.
Aero Energy fuels burn cleaner, produce lower greenhouse emissions, and offer you noticeably higher energy efficiencies than that of standard fuels. With cleaner diesel in both on- and off-road applications, Aero Energy is the best suited fuel supplier for hauling operators and major heavy equipment leasing companies throughout the region.
Fuel contamination can happen when fuel suppliers use the same delivery vehicles for transporting different fuels. This can result in sub-standard fuel quality and even performance failure of your equipment. At Aero Energy, our dedicated delivery vehicles ensure the prevention of cross mixed fuels so that you can be assured of the same great quality with each delivery.
With Aero Energy's proven technology of superior blend premium additives for every season and our aim for near-zero emissions, you can rest assured knowing that our commercial fuels consistently surpass industry standards.
Our fuels help your equipment achieve optimal performance with better lubricity, stronger horsepower, more torque, and better mileage along with a cleaner and more efficient burn. For you, that means increased efficiencies and less operational cost!
Our significant purchasing power combined with our highly efficient delivery routes in every corner of the region means we are able to keep our costs lower and in turn pass that savings on to you.
As part of Aero Energy's transparent pricing commitment, there are no hidden fees, no delivery charges, no hazmat or other company-sponsored charges. Our ethical fuel pricing is based on daily supplier rates and never high margin retail rates. When fuel rates go down, your rate will automatically decrease as well. You pay the market rate and applicable taxes with a nominal regulatory fee, and not a penny more.
For our customers who use higher volumes of fuel on a consistent basis, Aero Energy's fixed price option helps your business stabilize cash flow and gives you protection over market fluctuations.
For over nine decades, Aero Energy's reputation has earned us recognition amongst our local communities and the companies we partner with as the leading fuel supplier throughout south central Pennsylvania, northern Maryland and Maryland's eastern shore regions.
Predominantly paperless, Aero Energy is dedicated to preserving our environment with less paper and less waste. This same dedication reduces expenses and makes transactions more secure, more efficient and more expedient in today's digital landscape. With our e-ticket discount, we deduct $3 from every delivery ticket.
Our innovative technology solutions helps simplify your administrative operations with seamless, real-time access to your account and accurate tracking of your fuel delivery transactions which allows you to:
View your account details online
View your delivery and pricing history
Export account delivery and pricing data directly into your accounting software
Print statements
Pay online
Since your business is unique, Aero Energy is committed to working with you according to your needs. With our credit approved term accounts, you have the option of paying according to net-day terms which allows you to pay by check, credit card or by ACH automatic bank transfer. And with no additional fees or price increases for credit card transactions, you can be sure the price on your e-ticket is the price you will pay. This is just one of the many reasons why Aero Energy is recognized as the most trusted commercial fuel delivery services in PA, MD and Southwest DE.
Whether you have a temporary jobsite or a permanent location in need of fuel, Aero Energy has you covered. We offer ISO above ground, double wall steel skid tanks, completely assembled with pumps and nozzles for use with diesel fuels and heating oil, as well as propane tanks of various sizes. Our fuel storage tanks can be used for permanent placement, for short or long term use, and can also follow you from job site to job site.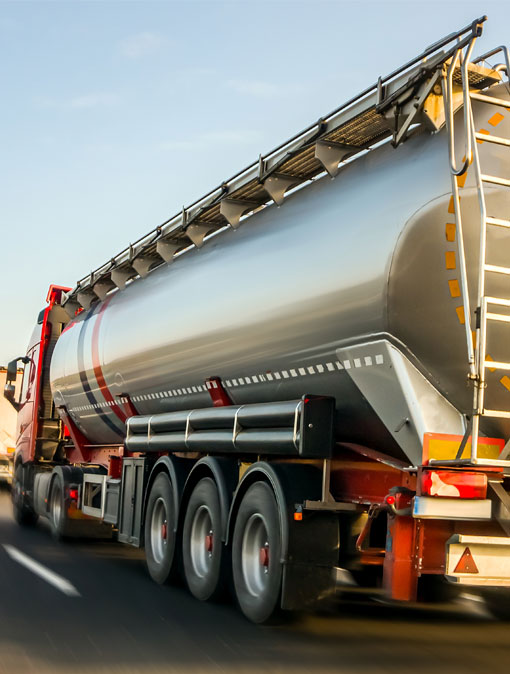 Propane-powered Equipment Fueling
You rely on your propane-powered equipment to get the job done. Aero Energy supplies propane cylinders of all sizes with fuel delivery throughout PA, MD and DE. Whether it's tow motors, forklift cylinders, landscape and turf equipment, Aero Energy can support your needs.
Tank Monitoring
Aero Energy's tank monitoring program takes the hassle out of having to continuously watch your tank gauge so that you can focus your attention on running your business operation. With our state-of-the-art monitoring technology, we can see how much you have in your tank at all times. You can rest assured knowing that we'll never let you run out of fuel.
Our tank monitoring program is an indispensable feature especially for companies whose fuel usage is more unpredictable or fluctuates based on weather or other variable conditions.
Our Commercial Fuel Delivery Area
We deliver commercial fuels across Pennsylvania, Maryland and Delaware. Please give us a call if you are looking to have commercial fuel deliveries.
Contact Us For Commercial Fuel Inquiries