Explore Our Free Aero Tank Monitors
Whether you are new to propane or have been using it to heat your home for years, homeowners typically share a common concern: "How do I prevent a run out?" Energy companies relied upon guess work and antiquated calculations for decades, but today, tracking your tank levels is easy with Aero Tank Monitors. Our monitoring system allows you to track your propane levels in real time from the convenience of your smart phone.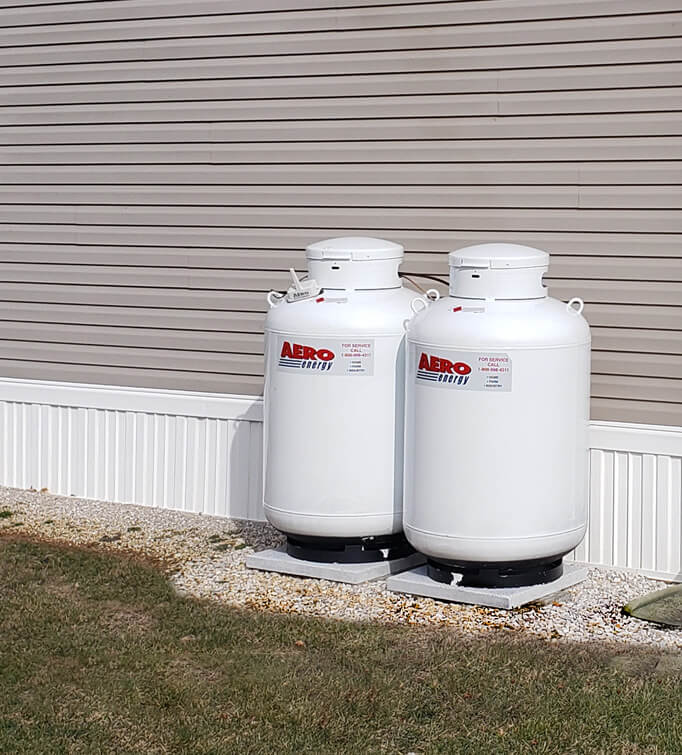 How Does it Work?
We will install a free monitoring device to your tank when you enroll in automatic delivery as an Aero Energy propane customer. Once the monitor is installed, you will download the Nee-Vo app which is both IOS and Android compatible. You will then be able to remotely monitor your tank levels from your phone after linking the app with your propane tank. Our monitoring solution allows us to make perfectly timed deliveries so your tank always remains at a safe fuel level.
The Special Features of Your Monitor:
Our technology allows you more than just real time readings on your smartphone device. You will also benefit from monthly usage comparisons to help you better understand your consumption and customizable tank level notifications. If you have multiple monitored tanks, you can track them all from the convenience of the same app. Our monitors rely on the most up to date cell phone technology and boast a 10-year battery life to guarantee long term dependability.
Our Fuel Delivery Philosophy:
We believe you deserve peace of mind, reliability and attention to detail from your fuel provider. Our free tank monitors help us accomplish all three by providing unrivaled insights. You can also be satisfied knowing that delivery operations are much more environmentally friendly with the added efficiencies our monitors allow us.
Interested in learning more? Our fuel experts are looking forward to providing you with a free fueling consultation so we can better understand your needs. Please give us a call at 1-800-998-4311 to learn about the Aero Tank Monitor waiting for you!
Are you an existing automatic delivery customer wondering when your monitor will be installed? We appreciate your patience. We are constantly rolling more monitors out into the field and look forward to getting you set up. In the meantime, please submit the form below to join our priority waitlist.
Note: Tank monitors are only available for propane tanks at this time.
Terms and conditions:
To qualify for Aero Energy's free tank monitoring service: automatic delivery and primary heat usage with a tank capacity of at least 200 gallons is required. Aero Energy's tank monitor is available for lease at $5.00 per month for account locations that do not qualify for our free tank monitoring service (automatic delivery will still be required). The monitor is the property of Aero Energy. Aero Energy will remove the tank monitor in the event automatic delivery is terminated. Additional terms and conditions may apply.​
Not an Aero Energy customer yet? No problem! Give us a call at 1-800-998-4311 to set up your new account. Be sure to ask about qualifying for an Aero Tank Monitor as well during your account setup.
Join Our Waitlist
"*" indicates required fields