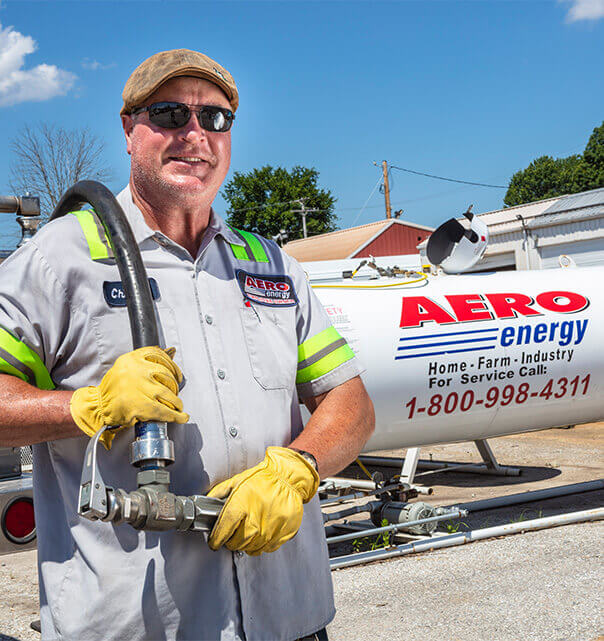 Propane
At Aero Energy, we know you're on the go which is why we've made ordering fuel as easy as possible. we are excited to share that you can now order propane online with our Self-Service Portal! If you have ordered fuel from us before, simply login to your MyAero Account to place your next order, schedule a delivery and pay without even making a call. New to Aero Energy? No problem! Just follow the link and create your MyAero account as a new customer so you can get started with our self-service portal.
If you're in need of 'propane delivery near me,' look no further than Aero Energy! In business for over 90 years, we are the preferred local propane service provider for Pennsylvania, Maryland and Delaware. Call Now to learn today's price per gallon and to place your order, or get started by submitting your zip code in the form to the right.
Whether you are looking for a bulk propane delivery or standard, 'residential propane near me,' we offer both automatic delivery options as well as online propane sales. If you have ordered fuel from us before, simply login to your MyAero Account to place your next order, schedule a delivery and pay without even making a call. If you are new to Aero Energy, follow the link and create our M Aero account to order propane
online.
Aero Tank Monitors
With our industry leading Aero Tank Monitors, we provide our customers with the ultimate peace of mind. When you become an Aero Energy automatic delivery customer, you will be able to monitor your tank levels, compare monthly usage and receive customizable notifications. With Aero Energy also monitoring your propane levels, we'll automatically schedule your delivery when you need a refill!
Click here to learn more about our tank monitors!
Neighborhood Gas Systems
Do you live in one of our Neighborhood Metered Gas System communities? You can easily manage your account when you log in to MyAero. Looking for information on Excess Flow Valve Regulations? Click here.
Why Aero Energy?
Propane Tanks: We lease 100 gallon, 325 gallon, 500 gallon and 1000 gallon propane tanks. We also offer discounted tanks that have been refurbished and approved by our experts (depending on availability). Click here to learn more about leasing propane tanks.
Propane Delivery: With our advanced Aero tank monitors, not only can we can monitor your tank levels to make sure you never run out, but so can you! Inquire about our new Otodata technology and the app that you can download once a monitor is installed on your tank. Our delivery drivers are on call year round to ensure you have propane.
90 Years of Service: Established in 1929, Aero Energy has established itself as an industry leader with the sale and distribution of propane. In addition to competitive prices, we strive to offer the greatest expertise, attention to detail and customer service. As an employee-owned company, our team members bring an unrivaled level of care and commitment to work every single day. When you choose Aero Energy you know that you can depend on us for those that depend on you.
Our Propane Programs
SMART Price Protection Program: By enrolling in Aero Energy's SMART Price Protection Program you won't have to worry about fluctuating propane prices for the entire year. Call Now to learn all about how this program can save you money!
House of Worship Program: When you enroll in the House of Worship program, 4 cents will be donated to your church annually for every gallon of fuel you use. You can expect on average, a donation of roughly $600 once 20 participating members enroll. Click here to learn more about the House of Worship Program.
Adams Electric & Chopank Electric Cooperatives: Did you know that Aero Energy is partially owned by Adams Electric Cooperative and Choptank Electric Cooperative? If you are a member of either electric cooperative you are eligible for annual reimbursements of 6 cents/gallon of propane used when you switch to Aero Energy!
Call 855-779-6899 to enroll in one of our programs or to order fuel today!
Contact Us For Residential Fuel Inquiries