Aero Energy Light Fixture Installations
Outlet and switches are the fundamental hardware that allow us to power the light fixtures, ventilation equipment, appliances, and electronics that are essential to our daily lives. Contemporary outlets are designed to optimize electrical safety by preventing electrical fires and shocks; they also let us safely disconnect from the power source with the flip of a switch.
Replacing and installing outlets and switches require the expertise of a professional electrical company like Aero Energy. Whether you are remodeling your home or making small improvements, it is essential to have safe, properly functioning outlets. If you're looking for outlet and switch installations in Adams, York, and Cumberland County, Pennsylvania, Aero Energy is here to help.
About Our Outlet & Switch Installation Services
At Aero Energy, we are committed to providing our customers with the best technology that maximizes electrical safety and enhances convenience. Our electricians have experience working with various types of electrical outlets and switches. We know which voltages and amperages work best for different spaces, making us more than equipped to prevent electrical hazards both during and after installation.
Types of Outlets & Switches We Install
GFCI Outlets: Ground fault circuit interrupter outlets (GFCI) are electrical receptacles that track electric currents and cut off power when there is a surge. GFCI outlets are best suited for areas at high risk for electrical hazards and shocks, like bathrooms, garages, crawl spaces, basements, laundry rooms, or anywhere water sources are present.
AFCI Outlets: The Arc Fault Circuit Interrupter (AFCI) is designed to protect homes from electrical fires that could come from arcing faults. Arcing faults are electrical malfunctions that could occur with aging or damaged wires. Damaged wires let electrical currents jump from one wire to another (aka arcing). If there is a surge in current, an AFCI immediately deactivates the outlet. AFCIs are most commonly installed in bedrooms, dining rooms, dens, closets, hallways, and recreation/playrooms.
Tamper-Proof Outlets: These types of outlets are designed with spring-loaded shutters that seal off contact openings they are in use. Tamper-proof outlets are also considered child-proof, as the springs have to be simultaneously compressed in order to work. In addition to being kid-safe, tamper-proof outlets also offer protection from humidity, rain, and UV rays.
20A, 125 Volt Outlets: These types of outlets are recommended for larger kitchen and household appliances, such as dishwashers, washers, and dryers, that require more power to work. 20A, 125 Volt outlets can be identified by the horizontal slot located along with the vertical ground slot.
20A, 250 Volt Outlets: This type of outlet is best suited for larger electrical appliances such as air ventilation systems, air-conditioning units, and air compressors requiring higher voltage to function.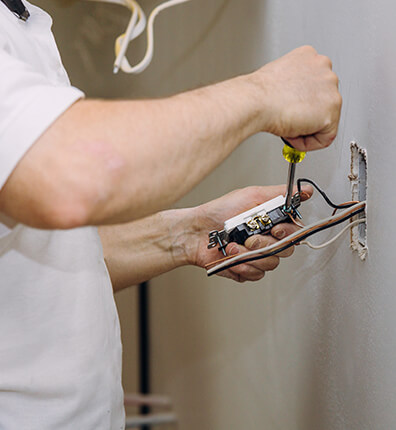 Get Our Premium Home Service Plan
Aero Energy Home Service Plans cover all your repair and installment services throughout the year. Call us today to find out about the various home service plans available for your electrical outlet and switches.
Just some of the features our service plan provides includes:
Safeguard Tune-up/ Cleaning/ Service
Maximum efficiency
Longer unit lifespans
Parts and labor coverage
Replacement rebates>
24/7 Emergency service
Discounted add-ons
Why Choose Aero Energy for Outlet and Switch Installations?
Aero Energy prides ourselves on having a team of highly-qualified and professionals. We are committed to providing our customers the peace of mind they deserve with the knowledge that their electrical outlets are working properly and reliably.
Everything we do here at Aero Energy adheres to electrical industry guidelines and safety standards. For an outlet or switch installation job well done, homeowners in York, Adams, and Cumberland County, Pennsylvania turn to the experts at Aero Energy.
If you need help with installing outlets and switches, we encourage you to give us a call at 855-779-6899 to schedule an appointment with us today!
Contact Us For Light Fixture Inquiries