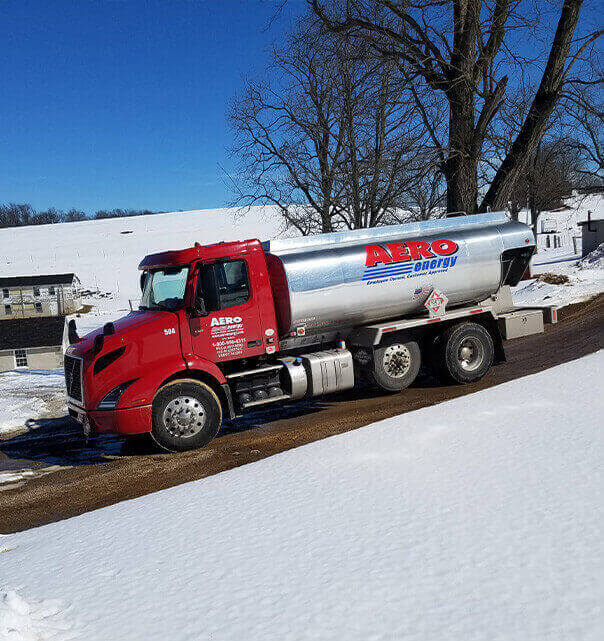 Heating Oil Near Me
Originally Aero Oil, Aero Energy has been providing home heating oil for over 90 years! If you're doing searches like heating oil near me, you'll be happy to know that we are a full service heating oil delivery company with competitively priced fuel. You can now enroll in our automatic oil delivery services or take advantage of online ordering using our Self-Service Portal.
If you have ordered fuel from us before, simply login to your MyAero Account to place your next order, schedule a delivery and pay without even making a call. If you are new to Aero Energy, follow the link and create your MyAero account to order heating oil online.
Aero Energy is Pennsylvania, Maryland and Delaware's preferred local heating oil company. Interested in becoming an automatic delivery customer? Call Now to place your order with our customer service team or get started by submitting your zip code in the form to the right.
If natural gas heating is not a feasible option where you live, oil systems can serve as an energy efficient alternative for your home's heating system. Heating oil serves as an incredibly efficient way to heat your home! Relying upon oil heating in your home will allow you to ensure your home remains at a comfortable temperature year round.
From delivery, to tank installation and tank maintenance, Aero Energy is your full service provider for all your heating oil needs. We are also your experts on additives which help your home to burn fuel more efficiently. One value we hold very highly is transparency with our customers.
If you're wondering how to choose a local heating oil delivery company, we've written some questions you should ask any company (including us) that you're interested in working with. Read more about how to choose a heating oil company near you, here.
Looking for our heating oil prices today? Select the 'Become an Automatic Delivery Customer' button below to enter your zip code and see current rates. If you are an interested commercial customer, rest assured knowing we can meet any demand you have. Please visit our commercial fuels page for more information!
Why Aero Energy?
Premium Heating Oil Additives
Versatile and long-lasting, heating oil fuels boilers, water heaters, and heaters. Aero Energy's premium heating oil additives help to save you money and solves problems:
Keeps nozzles clean
Prevents sludge
Removes moisture/water
Prevents frozen lines
Aero Energy Does it All:
Purchasing a Heating Oil Tank: Aero Energy has you covered for your oil tank replacement! The tank sizes we supply include 275 gallon and 400 gallon tanks. Whether you are in the market for an above ground or underground tank our experts can help you determine exactly which fuel tank is best for you.
Heating Oil Delivery: With our advanced software and weather tracking technologies we can monitor your tank levels to ensure you have a delivery before you run out. Day or night is our promise to you when enrolled in automatic fuel delivery. With our nine different locations, we guarantee we will get you your fuel when you need it most with our emergency services.
Oil Furnace Installation: Unlike other fuel providers, our highly trained service department is equipped to install your oil furnace. Our heating and cooling technicians have undergone the highest level of training and are prepared for install, repair and tune ups when you need it most!
90 Years of Service
Established in 1929, Aero Energy offers the greatest expertise, attention to detail and competitive pricing. As an employee-owned company, our team brings an unrivaled level of care and commitment to work every single day. When you choose Aero Energy, you know that you can depend on us for those that depend on you.
Our Energy Programs
Contact Us For Residential Fuel Inquiries