Top 3 Reasons to Consider An Aero Home Service Plan
Just about everyone's favorite part of their HVAC system is when it's working properly and keeping their home at an optimal temperature. More importantly, homeowners love when it's not something they need to worry about. The extreme outdoor temperatures these systems battle to keep your home comfortable and the vast number of hours they're running each year are two things that are considered far less often. While there are many benefits associated with enrolling your HVAC System in a home service contract, here are our top three reasons to enroll in an Aero Home Service Plan this spring:

1. An Annual Tune-Up is Included: The key to longevity with HVAC systems is regular cleaning and maintenance. Although there is a monthly fee associated with a service plan, our 22-point AC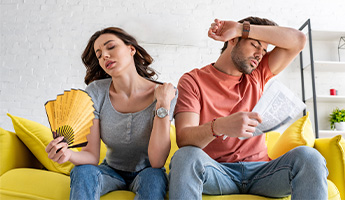 tune-ups and 17-point furnace tune-ups make these plans well worth your while. In addition to cleaning away any debris or grime accumulated, our expert technicians also run through a comprehensive checklist to ensure everything is operating correctly. An important note with annual tune-ups is that this is an opportunity to catch small problems before they turn into big ones. Repairs are almost always going to be more affordable than a system replacement, meaning an annual tune-up can go a long way. It's also important to remember that when your system is performing at peak efficiency it will be consuming less energy to heat and cool your home. This will ultimately save you money every month on your energy bill.

2. 24/7 Emergency Coverage: Whether it's the heat of August or the coldest day in January the last thing you want is for your HVAC system to break down or malfunction. That said, if a scenario like this does occur you have nothing to worry about when enrolled in an Aero Home Service Plan because 24/7 coverage is included in each of our tiers. You deserve home comfort which is why day or night is our promise to you when enrolled in an Aero Home Service Plan.

3. Additional Plan Benefits: In addition to an annual tune-up and 24/7 coverage, our plans include a variety of added perks! For instance, you'll enjoy discounted parts and labor included in all of our tiers. Additionally, annual Aero Dollars can be earned for every year enrolled and are redeemable for future service and install work. Move up to the Silver 90 or Gold 90 tiers and you'll also enjoy waived trip charges, and replacement rebates if your system falls beyond repair.

We encourage all of our customers to enroll in these plans for ultimate peace of mind! We're also excited to share that our service contracts can now be purchased directly online through MyAero. If you're an existing customer, you can login here. New to Aero Energy, but interested in enrolling in a plan? No problem! Get started online today by setting up a new account. If you have any questions about your account or would like to speak to one of our heating and cooling experts, know you can give us a call at 1-800-998-4311.