What Does the 3G Shutdown Mean for Propane Tank Monitors?
What is Happening?
Major cellular network, AT&T, has now shutdown their 3G network with T-Mobile and Verizon following shortly behind them to completely discontinue 3G in the United States. This comes following several delays but has been a long-anticipated change. While many have long ago updated their 3G cellphones, those who have not should expect extremely limited capabilities from these devices moving forward. Outside of cellphones it is important to remember that there may be other devices you own that currently rely upon the 3G network.

These devices may include your cars depending on its manufacture date, early generation kindles, security systems, and even emergency personal fall detectors. There are certainly devices that are relied upon every day that could be affected. Tank monitors are an additional device that could be especially relevant for homes heated by propane. Not all propane homes have them, but this is a technology that evolved greatly in the last decade alone.

Why is the 3G network being shut down?

Major US cellular providers have been planning this transition for well over a year so it's important to remember this didn't happen overnight. Essentially, 3G has become an outdated technology and this move comes as an effort to fully transition to 4G and 5G.

How Does this Impact Propane Tank Monitors?
In the infancy of propane tank monitors the 3G network was heavily relied upon to report propane tank levels. While this has become less common in recent years, it is expected that there are still many of these monitors active and deployed across the United States. If you are currently relying on a tank monitor from another propane supplier, it would be wise to confirm whether the reporting capabilities will be impacted or not.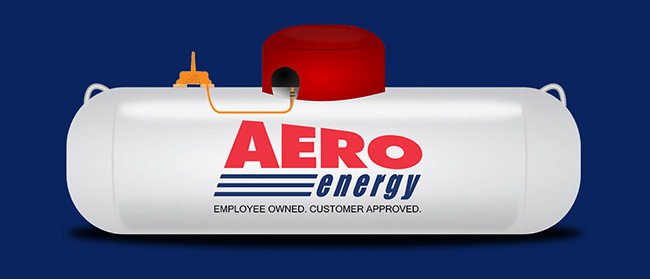 Aero Tank Monitors will not be impacted by the impending 3G shutdown.
Our customers can rest assured knowing our Aero Tank Monitor technology from Otodata will not be impacted by the 3G cellular shutdown. Far from the outdated model, our monitors do not rely upon the 3G network and we are not expecting any interruptions in service. Our Aero Tank Monitors are able to provide us consistent and accurate information that is transmitted daily to reflect your tank's propane levels.

Interested in switching to Aero Energy or learning more about our tank monitors? Be sure to visit our Aero Tank Monitor webpage to learn more information! Our devices allow you to check your propane levels directly from the convenience of your smartphone! In addition to monitoring your real time levels, you'll also be able to compare monthly usage and even set custom notifications. Click here to learn more.